Diagnostic Services at Native Palm Animal Hospital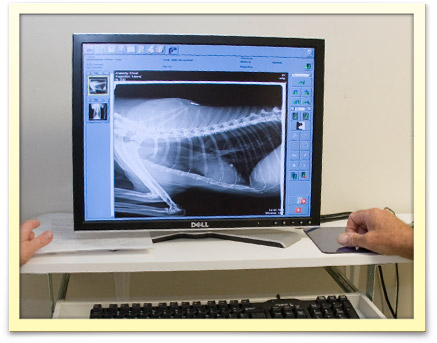 Despite the very best preventive care, animals can become sick. When this happens, it is stressful for both you and your pet, especially because you can't simply ask your companion what's wrong. You need a skilled Jupiter area veterinarian whom you can trust to accurately diagnose and effectively treat your pet.
As part of our commitment to provide you with access to the best medical care for your pet, Native Palm Animal Hospital has invested in the latest advanced diagnostic technology. After performing a thorough examination, diagnostic tests are sometimes necessary in order to identify the underlying cause of your pet's illness. It is our policy to review any recommended tests with you before they are performed, as well as discuss all the available treatment options and fees.
Digital Radiographs
Radiographs, or X-rays, are one of the most common and useful diagnostic tools in medicine because of their ability to penetrate tissues and display your pet's organs and bones. At Native Palm Animal Hospital, we use X-rays to examine your pet's bones, lungs, heart, abdomen, oral cavity, and other areas, and for diagnosing and monitoring many medical and surgical conditions. If we suspect your pet has a fractured bone, has swallowed a foreign object, or is suffering from a heart problem, an X-ray can tell us what we need to know.
Because X-rays are such a valuable diagnostic tool, Native Palm Animal Hospital has invested in a state-of-the-art digital X-ray machine. There are many important advantages to digital X-rays over traditional radiology:
They are immediately able to be viewed on a computer monitor.
The clear, detailed images can be manipulated so we can get a better view of your pet's bones and internal organs, leading to a quicker and more accurate diagnosis.
They take less time to process, which means less time for your pet on the X-ray table (and less stress), and less waiting time for you.
No harsh chemicals are needed to develop the images, reducing potential harm to our staff and the environment.
If a second opinion is necessary, digital X-rays can be sent by email to a specialist.
Native Palm Animal Hospital's investment in digital X-ray technology reflects our commitment to offer you and your Jupiter area pet the best and most comprehensive healthcare available.
Ultrasound
Ultrasound is a painless, safe, non-invasive procedure that we use to evaluate your pet's internal organs. It is one of the many ways we strive to give you peace of mind when it comes to your pet's health. Using sound waves, ultrasound produces a real-time moving picture of your pet's organs that allows us to visualize objects that cannot be detected by X-rays alone. At Native Palm Animal Hospital, we use ultrasound to assess the shape, size, tissue density, internal structure, and position of your pet's abdominal organs, assess cardiac health (also called an echocardiogram), and diagnose pregnancy. It can also be used to identify masses or tumors and as a guide during surgical biopsies.
The ultrasound procedure takes between 30 to 60 minutes to perform and, unless it is being used during a surgical biopsy, does not typically require sedation. A diagnosis based on what we see is usually available immediately, which means we can also provide you with treatment options at the time of your appointment and minimize your worry and stress.
Our In-House Medical and Diagnostic Laboratory
When performing routine wellness examinations or diagnosing an illness, what our veterinarians can't see is as important, if not more important, than what they can see.
Because protecting your pet's health is our most important job, Native Palm Animal Hospital offers a complete in-house diagnostic laboratory that allows us to perform a wide range of tests on blood, urine, feces, and biopsied tissue. Laboratory testing provides information about your pet's overall systemic health and helps in the early detection of diseases and other conditions without the need for invasive and expensive procedures. Thanks to our in-house diagnostic laboratory, we are able to deliver your pet's test results quickly — often within a few minutes — minimizing the time you need to wait for an accurate diagnosis and treatment plan.
For example, diagnostic testing can detect heartworm disease, infections, feline leukemia, intestinal parasites, urinary tract infections, and many additional diseases and conditions that can go unnoticed in their early stages. Early blood testing can show evidence of diabetes, changes in liver or kidney function, or simply provide a baseline for future reference. Diagnostic laboratory testing is also completed prior to dental or surgical procedures that require general anesthesia.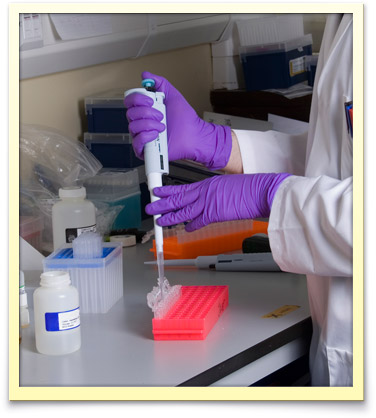 Below are short descriptions of the most common laboratory tests performed at our hospital:
Complete Blood Count
Complete blood count measures the number of red blood cells, white blood cells and platelets in a sample of blood. The numbers of each type of cell provides information to help diagnose anemia, infections and leukemia. If your pet is undergoing treatment for a condition, a complete blood count can help your veterinarian monitor how your pet is responding to the treatment.
Blood Chemistry Panel
A blood chemistry panel measures electrolytes, enzymes and chemical elements of your pet's blood. Included in a chemistry profile are important components such as calcium and phosphorous levels, liver enzymes, glucose and total protein. These measurements help your veterinarian determine how your pet's organs, such as kidneys, pancreas and liver, are functioning. Blood chemistry panels help diagnose and treat illness, as well as monitor your pet's response to treatment. A blood chemistry panel is usually performed to screen for potential problems and risks before anesthesia is administered.
Fecal Examination (Fecal)
Your veterinarian may examine your pet's feces under a microscope for clues about many different kinds of diseases, including difficulties with digestion, internal bleeding and pancreas disorders. Most importantly, a fecal examination confirms the presence of intestinal parasites, including roundworm, hookworm, whipworm, tapeworm, giardia, and coccidia. A fecal examination is part of your pet's complete wellness examination.
Urinalysis (UA)
Laboratory testing of your pet's urine can help detect the presence of specific substances that normally do not appear in urine, including protein, sugar, white blood cells or blood. Measuring the dilution or concentration of urine can also help your veterinarian diagnose illness. Urinalysis can be helpful in diagnosing urinary tract infections, diabetes, dehydration, kidney problems and other medical conditions.
Serum Chemistry
A serum chemistry profile is a panel of tests that provides a broad picture of your pet's general health. The results will confirm abnormalities found during a physical exam and will also indicate any problems that might otherwise go undetected. The blood chemistry values measured include calcium, glucose, phosphorus, sodium, potassium, chloride, cholesterol, triglycerides, and total protein. A 12-hour fast is generally recommended prior to testing to assure the most accurate results.
For more information about the diagnostic services that Native Palm Animal Hospital offers Jupiter and Palm Beach County pets, please email or call our Jupiter veterinarians at (561) 747-9991.